Enterprise™ Self Directed 401k Plan
The Asset Exchange Franchise Network (AEFN).
You can now be an owner of an Asset Exchange Strategies franchise through Asset Exchange Franchise Network, Inc, the company that manages and provides the franchise license to potential franchisees. Asset Exchange Strategies is the "company store".
The benefits to you are numerous and include:
No Staff is required at start-up.
No store front to own, lease or maintain
No Inventory
No custom designed equipment or signage
No long hours or extensive travel
Low Franchise Fee ranging from $40,000 to $75,000 depending upon the size of your territory
In addition, we can provide you guidance and the business structure for you to use your own retirement funds to purchase an AES franchise.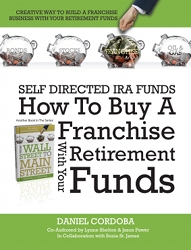 About Alternative Financing
Purchasing your franchise with your self directed IRA plan allows for a debt-free start-up since no bank loan is required, and no bank loan means no interest payments. This financing option gives you more control of your investment, debt free start-up, low overhead, and tax savings.
Win-Win Situation For Our Franchisees
The landscape of an Asset Exchange Strategies Franchise is a win-win situation for our Franchisees. AEFN provides the business strategies, products, training, and support that will give you the opportunity for success. 

The decision to buy a franchise is often a hedge against the uncertainty of starting a business from scratch. Much of the work that goes into designing the offering, targeting your desired demographics, preparing marketing materials, and designing sales strategies is done for you. We already designed and execute an engaging business model that will make you, the Franchisee successful. 

As a part of our business, we've helped numerous budding entrepreneurs turn their dreams of running their own business into a reality. There's a world of opportunity ready for you with your expertise and your AES Franchise. Your required Investment is realistic and includes a license fee, and training fee.